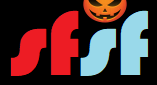 FINAL HALLOWE'EN COUNTDOWN: #3
Okay, again not strictly science fiction, but it's only two more days till Hallowe'en and our grand finale, and these offerings seem appropriate to the season:
The Addams Family and Munsters tv shows premiered the same year, and in fact the same week.
It's clear which one was better, of course. I mean, just look at Carolyn Jones's and John Astin's expressions in the Addams Family opening. Worth the price of admission right there.
313. Jack Marshall, "Munsters Theme" (1964):
There were actually lyrics, but they were never used on the show:
314. Vic Mizzy, "Addams Family Theme" (1964):
Some more Addams Family songs from later incarnations of the franchise:
315. Betty Comden, Adolph Green, and Mark Shaiman (sung by Raul Julia and Christopher Lloyd), "Mamushka" (from the 1991 Addams Family movie):
And there's another, unused version with more lyrics:
316. Christina Aguilera, "Haunted Heart" (from the 2019 Addams Family movie):
317. Buddy Baker, "Grim Grinning Ghosts" (1969):
Not Munsters or Addams Family related, but in the same spirit – the theme song from Disneyland's Haunted Mansion ride:
318. Randy Newman (composer) and Keith David (performer), "Friends on the Other Side" (2009):
And this, from the movie The Princess and the Frog:
(If it doesn't let you watch it here, just click through to watch it on YouTube.)