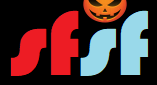 And now we come to the grand finale, with fireworks bursting in all directions, the –
FINAL HALLOWE'EN COUNTDOWN: #1
327-328. Andrew Lloyd Webber and Charles Hart, "Phantom of the Opera" and "Music of the Night" (1986):
Is Gaston Leroux's 1910 novel Phantom of the Opera a work of science-fiction? I say yes, for the same reason Batman is: all those gadgets and mechanical contrivances. And so these songs from the musical version count, sez I, as sci-fi songs.
(Two Phantom-related memories: listening to a Phantom "cassette tape"* on my "Walkman"* as I rode up and down the elevators of the insanely surreal Marriott Marquis atrium at the Eastern APA in Atlanta in 1991; and taking my mother to see the live show at the Kennedy Center in 1993 when I was running the IHS graduate summer program.)
[* Look it up, kids.]
Michael Crawford and Sarah Brightman, the original performers:
Gerard Butler and Emmy Rossum, from the 2004 movie (which I saw at the [late lamented] Harvard Square Theatre while in Boston for another Eastern APA [for the very first Molinari Society session, in fact] in 2004):
329. Andrew Lloyd Webber and Glenn Slater, "The Beauty Underneath" (2010):
From the flawed but underrated Phantom sequel, Love Never Dies (which I saw in Atlanta two years ago). There are three quite different versions of this song; I have trouble deciding which I like best:
From the 2010 London production:
From the 2012 Australian production:
From the 2017-2018 North American tour:
But the two Webber works are not the only musicals to be based on Leroux's novel. Twelve years earlier, there was the crazy movie The Phantom of the Paradise; here are a couple of songs from that:
330. Paul Williams, "The Hell of It" (1974):
331. Paul Williams (composer); Jessica Harper (singer), "Old Souls" (1974):
Of course the amazing-voiced Jessica Harper would go on to star in the 1981 Rocky Horror sequel Shock Treatment, taking over the role of Janet from Susan Sarandon in the 1975 adaptation of the 1973 stage musical. And that makes an adequate segue to Rocky Horror itself, a vaguely Frankenstein-based musical which of course opens with the ultimate science-fiction song – a song that was always going to be one of the songs featured in the grand finale of this SciFi SongFest. Namely this one:
332. Richard O'Brien, "Science Fiction Double Feature" (1973):
In the original stage production, the song was sung by Patricia Quinn (who also played Magenta – though she sounds more like Columbia here):
In the movie, it was sung by O'Brien, the composer (who also played Riff Raff), though it's still Quinn's lips we see:
On an amazing Hallowe'en 2011, singer Amanda Palmer performed the song on the Craig Ferguson show, with help from Stephin Merritt and Moby – and slightly more minimalist help from Palmer's husband, fantasy writer Neil Gaiman. Yes, this gloriously exists!
And that in turn offers segues in two different directions – one to this incredible song of android love from Palmer when she was part of the Dresden Dolls:
333. Dresden Dolls, "Coin Operated Boy" (2003):
– and hence to this similarly-themed song (actually written by Johnny S. Black in 1915):
334. Mills Brothers, "Paper Doll" (1943):
– and onward to this updated version (which quotes the original in the background, starting around 1:30):
335. Red Clay Ramblers, "The Corrugated Lady" (1978):
– and the other segue is back to the Craig Ferguson show, where on that very same Hallowe'en 2011 night, Ferguson himself performed another song from Rocky Horror:
336. Richard O'Brien, "Over at the Frankenstein Place" (1973):
First the film version:
And then Ferguson's version:
Following the Rocky Horror strand forward leads to this song:
337. Richard O'Brien, "Time Warp" (1973):
(And don't Columbia, and her relationship with Frank-N-Furter, prefigure Harley Quinn, and her relationship with Mr. J?)
(As for those subtitles: traduttore, traditore, indeed.)
– which leads in turn to this Doctor Who oriented cover from the Hillywood Sisters (filled with visual references to the Tennant era). I think Elliott Crossley deserves more prominent billing than he gets here for his spot-on Tennant voice dubbing. (Incidentally: the timing of "the blackness would hit me" is, um, surely not accidental – right? Cheeky.)
Following the Rocky Horror strand forward for one more song takes us to …
338. Richard O'Brien (composer); Tim Curry (performer), "Sweet Transvestite" (1973):
(And the subtitles are not getting any more accurate.)
Alternatively, following the Doctor Who and Craig Ferguson threads back, we find them converging on …
339. Craig Ferguson, "Doctor Who Cold Open" (2010):
So, back in 1963 the Doctor Who theme was composed by Ron Grainer and then vastly improved by Delia Derbyshire:
But it never had lyrics until, nearly 50 years later, Ferguson gave us these:
Trivia note: in his youth Craig Ferguson was in a band with Peter Capaldi, who would later play the Doctor from 2013 to 2017.
Continuing to follow the Doctor Who strand leads to another song that has received a Doctor Who parody:
340. Victoria Wood, "The Ballad of Barry and Freda (Let's Do It)" (1986):
And here's the Doctor Who themed version, a send-off from the stars of Doctor Who to showrunners Russell T. Davies and Julie Gardner – parts of which you'll get only if you've read Davies' Writer's Tale:
But we've begun to depart from the authentically Hallowe'eny, so let's follow the Doctor Who strand back in a twisty direction – to this song from the movie The Nightmare Before Christmas:
341. Danny Elfman, "This is Halloween" (1993):
No Doctor Who connection yet; but then Marilyn Manson recorded a cover version – and someone made a Doctor Who themed video (from the Matt Smith era) for that – and the result is the ultimate sci-fi Hallowe'en song (as opposed to the ultimate sci-fi song simpliciter, which was #332 above), and a fitting culmination for our SongFest: