[cross-posted at POT]
I just got back from Brunswick GA for a Liberty Fund conference on Frank Knight. I'd never read much of Knight before beyond the risk vs. uncertainty stuff, but his methodological, ethical, and (though he wouldn't have used the term) praxeological writings turn out to connect nicely with a number of my areas of concern: Plato and Aristotle, Frege and Wittgenstein, Collingwood and Winch, Mises and Hayek.
The conference was at the Jekyll Island Club on Old Plantation Road. It's like a fusion of the sins of the Hamiltonian and Jeffersonian factions! (And given that Knight taught at Chicago, it seems appropriate that there's a connection between Jekyll Island and Hyde Park.)
For photos of the venue, see my Facebook page.
Speaking of Jekyll Island: my grandfather Charles Roderick McKay (1873-1954), although he wasn't at the famous Jekyll Island meeting, was one of the people involved in setting up the Federal Reserve; he worked with Paul Warburg et al.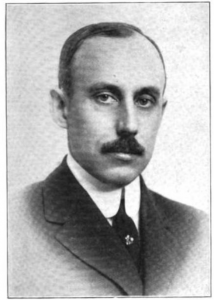 From a poverty-stricken childhood in Prince Edward Island, he became a runner for a bank while visiting Chicago relatives with his mother, and eventually worked his way up to the position of Transit Manager for the First National Bank of Chicago, in which position he developed the numerical check-clearing ABA system which would be adopted by the Fed. Once the Fed was established he became Deputy Governor of the Federal Reserve Bank of Chicago, though he was really more of a co-governor; when the various Fed Governors went to DC to meet with FDR, the Chicago gov was the only one who brought his deputy with him.
By way of partial mitigation of his role in the Fed, I note that when the central Fed began artificially lowering interest rates, which on the Austrian analysis was a major cause of the Great Depression, it was in large part thanks to my grandfather that the Chicago branch resisted the policy until finally overridden by the central; and in later retirement he felt betrayed by the direction the Fed had taken. (My grandfather's economic and political views were broadly speaking "Old Right." I never met him; he died a decade before I was born.)
I found his photo online in this periodical. From my mother's stories I gather he was as much fun as he looks.