I'm excited to announce the publication of two new anthologies from C4SS (the Center for a Stateless Society): The Anatomy of Escape: A Defense of the Commons (357 pp.; buy at C4SS [$12 plus shipping] or buy at Amazon) and Fighting Fascism: Anti-fascism, Free Speech and Political Violence (479 pp.; buy at C4SS [$14 plus shipping] or buy at Amazon).
The Anatomy of Escape explores the role of common property in a market anarchist system, while Fighting Fascism features debates over the ethical, political, and strategic/tactical considerations that should inform resistance to fascist movements. (Both books include contributions by me – although my piece in the fascism volume is a bit of an outlier, as it concerns fascism in a somewhat different sense of the term from the one addressed in most of the other pieces.)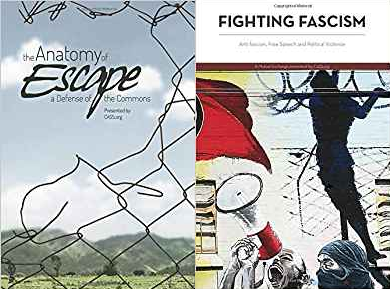 From the introduction to The Anatomy of Escape: A Defense of the Commons:
Many market anarchists – especially, though not exclusively, those associated with market anarchism's "right" wing – tend to envision a fully free market as one in which all resources are privately owned. The essays in this book offer a different perspective: that a stateless free-market society can and should include, alongside private property, a robust role for public property – not, of course, in the sense of governmental property, but rather in the sense of property that is owned by the general community rather than by specific individuals or formally organized groups.
From the introduction to Fighting Fascism: Anti-fascism, Free Speech and Political Violence:
Anarchists are, by definition, anti-fascist. They oppose all forms of fascism just as they oppose all forms of statism, domination, and oppression. What's left to be settled, however, is what our anti-fascist commitment entails in practice. What should our theoretical debates surrounding the nature and danger of fascist ideas imply for our practical strategies for creating the new, anti-fascist world in the shell of the old, fascist one?

More specifically, we need to understand just what fascism is and how it spreads. We need to know why fascism has any appeal at all and how to stem that appeal. We need to see how concepts like freedom of speech figure into anarchist praxis. We need to discuss what free speech is. We need to explore what constitutes mere speech and assembly and what constitutes intentionality and violence. We need to differentiate between self-defense and aggression. We need to seriously interrogate the morality and efficacy of different kinds of political violence. Most importantly, we need internally consistent ethical and strategic insights into replacing fascist ideas with anarchist ones. Failing to clarify these issues could cost us, not only our souls, but any fighting chance for anarchy left in this fragile world.
You can view the tables of contents at the links above.
And for more LWMA (left-wing market anarchist) books and other swag, check out the C4SS Store.