In my previous post on my recent peregrinations, I neglected to mention that while in New Orleans I also visited the Barataria Nature Preserve (a boardwalk through a swamp with alligators sunning themselves along the path).
In San Diego I hung out with my good friend Gary Chartier. On my last day I had lunch at Bali Hai, a childhood favourite I hadn't revisited since the 1970s.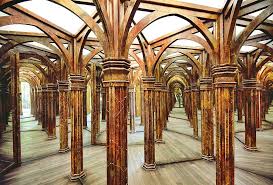 Prague was delightful as always. I realise it's the first European city I've been to four times. Had dinner with a bunch of the CEVRO students at Gruzie, a cool underground Georgian restaurant. Met some Molinari/C4SS fans.
On this trip I visited some Prague locales I hadn't had a chance to on previous visits: the Jewish Cemetery (the old one in Josefov, not the somewhat newer one in Žižkov with Kafka's grave, which I'd visited previously) (I'd also visited Čapek's grave in Vyšehrad on a previous trip) (and Hašek isn't buried in Prague) and Pinkas Synagogue, the Cubist Museum (can you believe two of the leading Czech cubists were named Kupka and Kubišta?), the art nouveau Obecní Dům café, and the Petřin Lookout Tower and oddly charming Mirror Maze.