[cross-posted at C4SS, BHL, and Public Reason]
Call for Abstracts
for the Molinari Society's next Eastern Symposium, to be held in conjunction with the American Philosophical Association Eastern Division meeting, January 6-9, 2016, in Washington DC. (Note that this meeting is the week after New Year's, rather than, as in past years, just before New Year's. This later time is expected to be the new normal for the Eastern APA henceforth.)
Symposium Topic:
Police Abuse: Solutions Beyond the State
Submission Deadline:
18 May 2015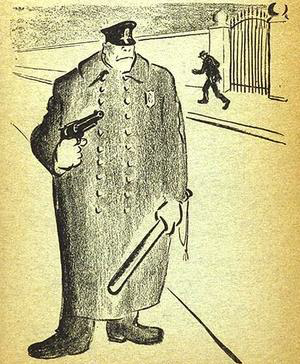 Abuses of power by police officers, especially abuses motivated by racial bias, are at last beginning to receive increased public scrutiny. Anarchists have long regarded police misconduct as a deep-rooted and systemic problem, one requiring radical rather than reformist solutions, but have not always agreed about what a radical solution should look like. Some anarchists have advocated a system of private security firms held in check by market competition; others have looked to volunteer and mutual-aid watch groups responsible to the communities they patrol; still others have rejected both models as insufficiently different from the government police system they're supposed to replace.
Would/should there be police, or something like police, in an anarchist society? If so, how might they be restrained from abuses? If not, what institutions or practices might secure protection from invasive behaviour instead?
Abstracts should be submitted for the 2016 Eastern Symposium by 18 May, 2015. Submissions from any point of view (anarchist or otherwise) are welcome. Please submit an abstract only if you expect to be able to present the paper in person at the Symposium. (Final papers should be of appropriate scope and length to be presented within 15-30 minutes.) Submitting authors will be notified of the acceptance or rejection of their papers by 31 May, 2015.
Submit abstracts as e-mail attachments, in Word .doc or .docx format, PDF, or ODT, to longrob@auburn.edu.
For any questions or information, contact Roderick T. Long at the above email address.
---
(In other news, the Molinari Symposium originally scheduled for this year's Pacific APA in Vancouver has been postponed to next year in San Francisco; details to follow in due course.)