[cross-posted at C4SS and BHL]
After a couple of years' hiatus (for financial reasons), The Industrial Radical is back! The fifth issue of the Molinari Institute's left-libertarian market-anarchist magazine goes in the mail to subscribers this week. (The Molinari Institute is the parent organisation of the Center for a Stateless Society.)
The page files for this issue have been ready to go for a while, being originally intended for our Autumn 2013 issue – which means that some of the references to current events are a bit dated. (The next issue will be up to date, with all new content.) But the theoretical content remains timeless.
Issue II.1 features articles by Sebastian A.B., John Ahrens, Paul Buchheit, Kevin Carson, Dawie Coetzee, Nathan Goodman, Charles Johnson, Irfan Khawaja, Thomas Knapp, Jennifer McKitrick, Skyler Miller, Grant Mincy, and Sheldon Richman, on topics ranging from border security, technological design, prison abolition, jury nullification, police misconduct, overpopulation, and the Keystone XL pipeline, to the persecution of whistleblowers, feminist and antifeminist censorship, civil strife in Egypt and Syria, torture, necrophilia, and the economic structure of state capitalism.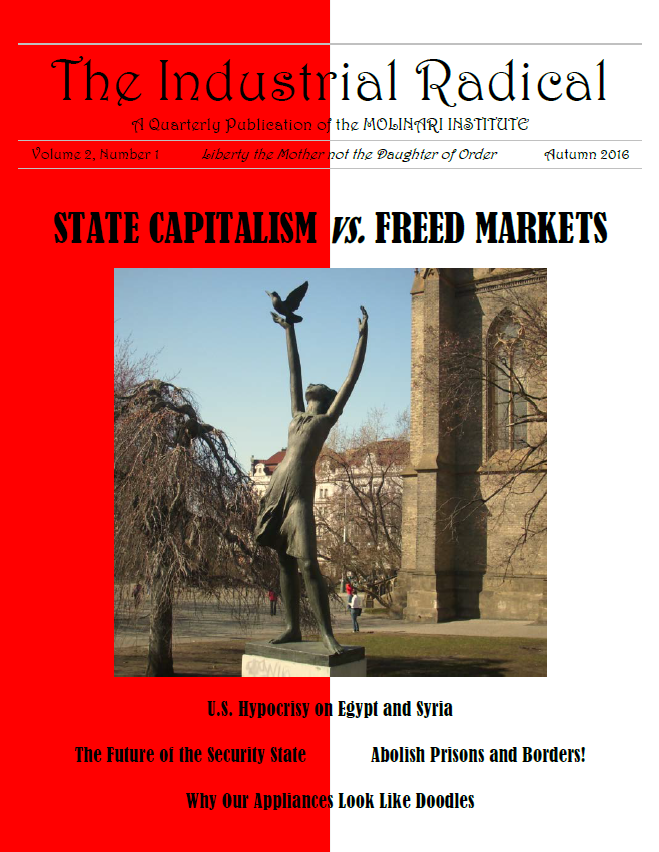 With each new issue published, we post the immediately preceding issue online. Hence a free pdf file of our previous issue (I.4, Summer 2013) is now available here. (See the first, second, and third issues also.)
Want to write for The Industrial Radical? See our information for authors and copyright policy (which, incidentally, will change from CC BY-SA to the less restrictive CC BY starting with the next issue).
Want to subscribe to The Industrial Radical? Visit our online shop.
Want to give an additional donation to the Molinari Institute (and help to prevent a future hiatus)? Contribute to our General Fund.